| | |
| --- | --- |
| Lesson 10 | C++ Overloading functions |
| Objective | Overload function selection algorithm example |
Overloaded Function Example in C++
Add a new print() function to the rational class that takes an integer argument representing the number of decimal places of precision to print.
Let us write an overloaded function greater() and follow the overload function selection algorithm for various invocations. In this example, the user-defined type rational is available and a variety of conversion rules, both implicit and explicit, are being applied.
Program dissection
Move your mouse cursor over the highlighted lines of code below for a pop-up discussion of their purpose.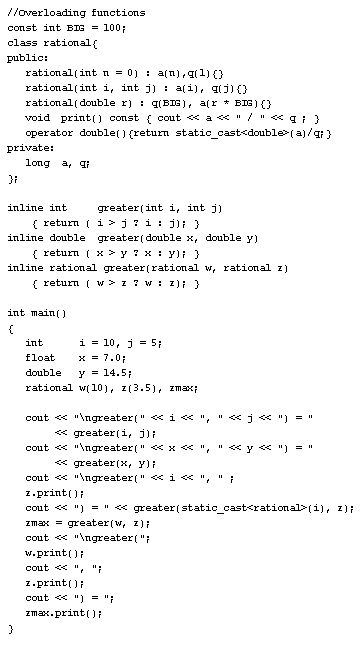 Overloaded Function Algorithm
The output from this program is:
greater(10, 5) = 10
greater(7, 14.5) = 14.5
greater(10, 350 / 100) = 10
greater(10 / 1, 350 / 100) = 10 / 1

Overload Function - Exercise